Carbon Management



Master's Program in Carbon Management (new, in development)
With the generous support of Karl G. Homburg, the CCC is developing a new Master's program, which aims to train the new workforce needed to meet the challenge of reducing carbon dioxide emissions. The new workforce will need to understand the science and technology underlying energy systems; to be versed in the role of terrestrial ecosystems in sequestering carbon and in methods to monitor and verify biological capture; to be able to shape a regulatory framework to enable revolutionary change while incorporating the latest scientific and engineering information; to know how to mobilize and manage private and public capital and to develop the growing carbon markets; and to know how to use the knowledge gleaned from psychological and economic research on the behavioral barriers to change. This workforce must be interdisciplinary with training in physical and social sciences, engineering, business, law and policy.
Carbon Management: Education and Practice, an international workshop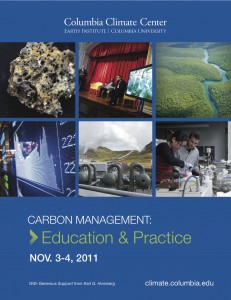 On November 3 – 4, 2011, the Columbia Climate Center hosted an international workshop, Carbon Management: Education & Practice (CMEP), with the aim of providing a forum for researchers, educators, and practitioners from around the world to discuss the training and skills needed to take on the challenge of carbon management globally and across sectors. We convened over 30 participants from all over the US, Canada, Germany, and the UK for two days of presentations and cross sectoral discussion about the challenges and opportunities of training a new workforce to engage a multifaceted approach to carbon management. To learn more about the workshop, you may download our CMEP Workshop Summary and Discussion paper here.
Carbon Management Distinguished Speaker Series
The Carbon Management Distinguished Speaker Series brings leaders involved in all aspects of the management of carbon emissions from academia, civil society, industry, business, and various levels of government to Columbia University with the aim of advancing solutions and stimulating informed debate on this challenge.
Speakers will give a public lecture to inform and educate the Columbia community and its neighbors, with the goal of stimulating more open and informed debate. Speakers will also engage with faculty members and students more directly in smaller groups.
For information on upcoming events, please see our events page.