PoLAR Partnership
Polar Learning And Responding: PoLAR Climate Change Education Partnership
MISSION | PARTNERSHIP | ADVISORY BOARD | INVENTORY | PoLAR PROJECTS | PRESENTATIONS
In August 2012, the Polar Learning and Responding: PoLAR Climate Change Education Partnership was awarded a $5.6 million grant from the National Science Foundation's Climate Change Education Partnership-Phase II program!  This allows the PoLAR Partnership to continue with implementing the activities developed under the CCEP-Phase I program. Read more here.
You can now follow the PoLAR Partnership on Facebook and twitter!
COMING SOON: The PoLAR Hub (thepolarhub.org), a community website focused on polar climate science, education, and outreach.  It will provide real-time capability for educational use of new polar studies and research, and will feature resources from the PoLAR Partnership projects.
MISSION
The Polar Learning and Responding Climate Change Education Partnership (PoLAR CCEP) focuses on the poles, on adult learners, and on interactive and game-like educational approaches.  Games and game-like tools are increasingly used to engage diverse participants in problem solving.  Through a NSF Phase I CCEP award, the PoLAR team met with stakeholders and analyzed educational strategies to transform public understanding of climate change.  Our vision for Phase II implementation is to use novel educational approaches and fascination with the changing polar regions in order to engage adult learners and inform public understanding and response to climate change.
THE PARTNERSHIP
Stephanie Pfirman (Principal Investigaor) – Barnard College, Columbia University, Lamont-Doherty Earth Observatory (LDEO)
Peter Schlosser (Co-PI) - Columbia Climate Center, LDEO, International Study of Arctic Change (ISAC)
Joey Lee (Co-PI) - Teachers College
Robert Steiner (Co-PI) - American Museum of Natural History (AMNH)
Elena Sparrow (Co-PI) - University of Alaska-Fairbanks, International Arctic Research Center (IARC)
Robin Bell – LDEO
Maribeth Murray – University of Alaska-Fairbanks, ISAC, Study of Environmental Arctic Change (SEARCH)
Lawrence Hamilton – University of New Hampshire, SEARCH
Ben Orlove – Center for Research on Environmental Decisions (CRED)
Khoi Truong – Columbia Center for New Media Teaching and Learnings
Ken Eklund - World Without Oil creator
Margie Turrin – LDEO
Jessica Brunacini and Theresa Hernandez - Columbia Climate Center
Elizabeth Bachrach and Madeline King – Goodman Research Group, Inc. (GRG) 
ADVISORY BOARD
Sarah Aucoin, Director, Urban Park Rangers, New York City Parks & Recreation; informal education and resource management
Asi Burak, Co-President, Games for Change and Co-Founder, Impact Games; gaming for education and social awareness
Annette deCharon, Director, COSEE-Ocean Systems, University of Maine; informal and formal education and outreach, NSF education programs
Sam Demientieff (Athabascan elder), President, River Journeys of Alaska; Alaska community leader
Amy Goldman, Director, Global Environmental Management Initiative; corporate tools for sustainability
Chris Hoadley, Associate Professor, Program in Educational Communication and Technology, NYU Steinhardt; games and educational theory
Clive Tesar, Head of Communications and External Relations, World Wildlife Federation Global Arctic Programme; science outreach and communication and informal education
INVENTORY
An inventory of current Arctic and Antarctic scientific and education resources, organizations, and practice was created and is available for download on our web page below.  The inventory includes over 100 polar/climate activities, resources, data sets and model interactive approaches. The vast majority target professional development for high school teachers. There are significantly more Arctic than Antarctic resources. Sea ice, marine ecosystems, and glaciers are the top three topics. Many of the resources, created during IPY, are satellite visualizations and short film clips/annotated films of either a scientist or Arctic resident speaking about their work or local change.  Just as noted by the CLEAN Gap Analysis, few activities link human activities to climate change.  For the general adult audience (non academic focus), the resources tend to be either animations or visualizations, e.g. NASA's 'Tour of the Cryosphere,' or websites, e.g. Woods Hole's 'Polar Discovery.'  Engaging simulations involving interaction or manipulation of resources and collaborative problem solving were poorly represented.  There is both a need and an opportunity to leverage and keep alive IPY investments in education and outreach.
Our PoLAR Inventory is available for download in four parts below.
PoLAR Inventory Part 1-Polar Educational Resources download
PoLAR Inventory Part 2-General Climate Resources download
PoLAR Inventory Part 3-Polar Climate Educational Book & Web Resources download
PoLAR Inventory Part 4-Reference Articles download
PoLAR PROJECTS
Ant/Arctic Challenge: Ecosystem Card Game
[Climate content/formal education practitioners: Stephanie Pfirman & Maribeth Murray; Learning/game design and production: Joey Lee]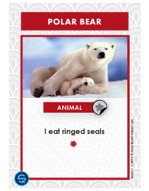 Arctic Challenge is an easy to learn, collectible card game for all ages.   In this engaging, collaborative experience, players learn about the Arctic marine food web, ecosystem threats, and the helpful actions a player can take.  An Antarctic version of this game is also planned for development.
SMARTIC: Strategic Management of Resources in Times of Change
[Climate content/formal education practitioners: Stephanie Pfirman & Ben Orlove; Learning/game design & production: Joey Lee]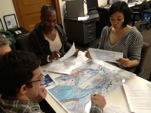 Strategic Management of Resources in Times of Change (SMARTIC) is a spatial planning activity with the goal of helping stakeholders manage competing resources as sea ice retreats.  Participants identify vulnerable areas within the game region and learn the complexity of managing multiple stakeholder interests during changing conditions.  Both Arctic and Antarctic versions are under development.
Future Coast
[Design: Ken Eklund, World Without Oil creator (2007); Climate science: Peter Schlosser, Ben Orlove]
Future Coast is a massively collaborative alternate reality game event in the style of World Without Oil (2007).  It creates a fun, participatory fiction that invites the general public to envision plausible futures under climate change and to imagine the effect of rising sea levels on the extended web of human interactions.  Future Coast leverages accessibility, peer and inquiry-driven learning, and the power of plausible narrative and play to increase understanding, shift attitudes, and affect behavioral change.  The game site links to science resources such as Polar Explorer; people use these curated resources to develop increasingly plausible "voicemails from the future" and to evaluate the likelihoods of the future scenarios they describe. As voicemails amass on the Future Coast map and link to create coherent "alternate realities," participants and observers learn the science of climate change and sea level rise projections in a fun, engaging, expressive social context. The game event is at the cutting edge of collaborative transmedia story-making and the "authentic fiction" genre.
Polar Explorer
[Climate content: Robin Bell; Education: Margie Turrin]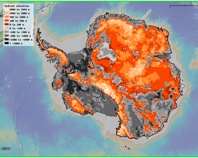 Polar Explorer is a data exploration and visualization tool that will leverage a connection with the existing EarthObserver application to introduce users to data that is climate change-focused and polar specific.  Building off of the current iPad and iPhone platform to include Android functionality, the Polar Explorer app will provide a guided look at current polar data, including continental ice thickness, air temperature, sea ice, sea surface temp, and permafrost cover, to highlight linkages and processes in Earth systems.
Professional Development at the American Museum of Natural History
[Education experts: Rob Steiner, Ro Kinzler, O. Roger Anderson; Community college outreach and dissemination: Tom Bailey, Community College Research Center (see letter); Climate science: Peter Schlosser]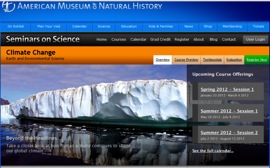 This project is a synergistic collaboration with the AMNH online teacher education course on climate change created with support from NASA's Global Climate Change Education program.  In Phase I, polar content was added in collaboration with educational advisors at Teachers College. Phase II implementation includes: Design, development, implementation, evaluation and revision of web-based educational materials on polar climate system science, initially targeting teachers and then adapted to a broad adult audience.  These materials will be available as both stand-alone modules (e.g. webinars for the general public linked with events/data on The PoLAR Hub website) and as part of an integrated, facilitated professional development experience for teachers available in both online and blended (online and in person) formats. This project will also undertake the creation of a repository of publically available climate change curricular unit plans building upon the experience of the pilot repository from Phase I.
ReAC: Reaching Arctic Communities Facing Climate Change,
[Climate Science/Science Educators:  Elena Sparrow; Learning Science/Education Practice Experts:  Malinda Chase, Executive Director, Association of Interior Native Educators (AINE); Alaska Native Elders/Cultural Experts: Samuel Demientieff]
ReAC is a culturally responsive project that facilitates in-depth knowledge about climate change and its effects by integrating local and Alaska Native observations and knowledge regarding climate and the environment with western science.  ReAC will bring together educators, local leaders, planners, and community members during three annual Climate Change Education and Culture Camps.
Polar Voices
[Polar Climate Science Expertise: Maribeth Murray; Media Design: Theresa Bakker; Inupiat language expert: Roger Topp]
Polar Voices is a series of 12 radio episodes with complementary internet media produced over four consecutive years. Using natural sound, recorded elements, interviews gathered on location, and the expertise available through the PoLAR CCEP, the series will show listeners the polar landscapes where global climate change is not a futuristic morality play, but a measurable event. These fully-produced audio programs, with layers of multi-lingual voice, ambient sound, and music, will be both playful and sophisticated.
Greenify: EcoImpact Missions
[Design, Learning science: Joey J. Lee; Climate Science: Peter Schlosser]
Greenify is a Real-World Action Game (RWAG) that turns climate change education and decision-making into a fun, social, and crowdsourced experience.  Targeted towards the average adult social network user, Greenify leverages accessibility, positive peer pressure, and actionable knowledge to increase understanding, shift attitudes, and motivate behavioral changes, allowing people to meaningfully address climate change in their day-to-day lives.  

PRESENTATIONS
Recent PoLAR Presentations:
PoLAR CAMEL Presentation #9 May 2012 view
PoLAR Advisory Board Presentation March 2012 download
PoLAR CLEAN Presentation January 2012 download
PoLAR AGU Presentation December 2011 download
Contact
For inquiries about PoLAR, you may contact Jessica Brunacini.