PoLAR CCEP

MISSION | PARTNERS | ADVISORY BOARD | INVENTORY | PoLAR PROJECTS | CONTACT
The world's polar regions are changing rapidly. What implications do these changes have for polar ecosystems and communities?  How do they compare to changes of the past?  Do changes in the Arctic and Antarctic regions affect life outside of the poles? The Polar Learning and Responding Climate Change Education Partnership (PoLAR Partnership) seeks to utilize fascination with shifting polar environments to inform public understanding of and response to climate change through the creation of novel educational approaches geared toward adults.
The PoLAR Partnership is a project of the CCC supported by grants from the National Science Foundation for a term of seven years. Through the NSF Phase I CCEP award, the CCC organized and coordinated the PoLAR Partnership, which met with stakeholders and analyzed educational strategies to transform public understanding of climate change. With the NSF Phase II CCEP award, we plan to implement our vision to use novel educational approaches and fascination with the changing polar regions in order to engage adult learners and inform public understanding and response to climate change.
ANNOUNCEMENT: The PoLAR Partnership launched The PoLAR Hub (thepolarhub.org), featuring the latest in polar climate science, news, and research. The PoLAR Hub provides information on educational resources focused on polar climate change including games, activities, and other novel tools developed by the PoLAR Partnership.
You can now follow the PoLAR Partnership on Facebook and twitter!
MISSION
The PoLAR Partnership is developing a suite of interactive and game-like tools that capitalize on the iconic imagery of the Arctic and Antarctic, areas which are often considered the 'canaries in the coal mine' of a changing global climate.  Games and game-like activities are increasingly used to engage diverse participants in problem solving.  Focusing on the poles also leads to discussion of broader impacts, especially as the changes taking place in the polar regions are increasingly linked to concerns about rising sea levels and extreme weather around the globe.  Adult learners, be they community leaders, the general public, pre- and in-service teachers, or college students, are today's decision makers and are more likely to make informed decisions if they understand the scientific evidence of climate change and its social, economic, and environmental consequences.
THE PARTNERS
Stephanie Pfirman (Principal Investigator) – Barnard College, Columbia University, Lamont-Doherty Earth Observatory (LDEO)
Peter Schlosser (Co-PI) – Columbia Climate Center, LDEO, International Study of Arctic Change (ISAC)
Joey Lee (Co-PI) – Teachers College
Robert Steiner (Co-PI) – American Museum of Natural History (AMNH)
Elena Sparrow (Co-PI) – University of Alaska-Fairbanks, International Arctic Research Center (IARC)
Robin Bell – LDEO
Maribeth Murray – University of Alaska-Fairbanks, ISAC, Study of Environmental Arctic Change (SEARCH)
Lawrence Hamilton – University of New Hampshire, SEARCH
Ben Orlove – Center for Research on Environmental Decisions (CRED)
Khoi Truong – Columbia Center for New Media Teaching and Learnings
Ken Eklund – World Without Oil creator
Margie Turrin – LDEO
Jessica Brunacini – Columbia Climate Center
Elizabeth Bachrach and Madeline King – Goodman Research Group, Inc. (GRG)
ADVISORY BOARD
Sarah Aucoin, Director, Urban Park Rangers, New York City Parks & Recreation; informal education and resource management
Asi Burak, Co-President, Games for Change and Co-Founder, Impact Games; gaming for education and social awareness
Annette deCharon, Director, COSEE-Ocean Systems, University of Maine; informal and formal education and outreach, NSF education programs
Sam Demientieff (Athabascan elder), President, River Journeys of Alaska; Alaska community leader
Amy Goldman, Director, Global Environmental Management Initiative; corporate tools for sustainability
Chris Hoadley, Associate Professor, Program in Educational Communication and Technology, NYU Steinhardt; games and educational theory
Clive Tesar, Head of Communications and External Relations, World Wildlife Federation Global Arctic Programme; science outreach and communication and informal education
INVENTORY
The PoLAR Partnership curates a searchable inventory of educational resources of Arctic, Antarctic, and climate materials including games, curriculum, websites, data sets, visualizations, and more. Start exploring by searching the inventory here!
PoLAR PROJECTS
EcoChains: Arctic Crisis
Project Leads: Stephanie Pfirman & Joey Lee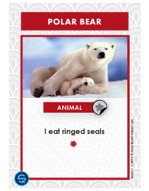 EcoChains is an ecosystem card game in which players learn the components and dependencies of an Arctic marine food chain, the reliance of some species on sea ice, and potential impacts of future changes. Arctic terrestrial and Antarctic versions of this game are also planned for development.
SMARTIC: Strategic MAnagement of Resources in Times of Change
Project Leads: Stephanie Pfirman & Joey Lee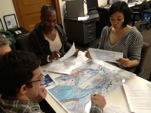 In this marine spatial planning activity, participants take on the roles of key Arctic stakeholders.  Players set resource and development priorities based on changing conditions in the region, and negotiate to resolve conflicts and manage competing interests.  In addition to the in-person game, a digital version is under development in conjunction with the Kiel Future Ocean group in Germany. An Antarctic version of SMARTIC is also scheduled for development.
Future Coast
Project Lead: Ken Eklund
This community-based, participatory "what if?" game explores the implications of our possible climate-changed futures. Can you create a voicemail that sounds as though it was recorded in 2021 or 2035 or 2048? In these voicemails, participants express how extreme weather, sea level rise, and changing ecosystems might affect their lives in the future.
Polar Explorer
Project Leads: Robin Bell & Margie Turrin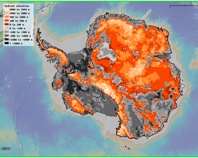 With the Polar Explorer App, users can travel through maps and visualizations of real data about the polar regions, collected and updated by scientists around the world. See how these remote polar-regions are tightly linked to all of us around the globe. As a Polar Explorer you will be the one answering these questions… Is Sea Level Rising? What's the story of sea ice? And why do we care about changes in the polar ecosystem?
Professional Development at the American Museum of Natural History
Project Lead: Rob Steiner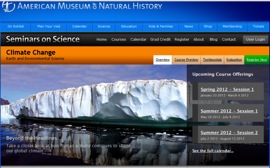 The American Museum of Natural History's online teacher professional development course on Climate Change explores the science of climate change. Middle and high school teachers learn how the climate system works; what factors cause climate to change across different time scales and how those factors interact; how climate has changed in the past; how scientists use models, observations and theory to make predictions about future climate; and the possible consequences of climate change for our planet.
ReAC: Reaching Arctic Communities Facing Climate Change,
Project Lead: Elena Sparrow
ReAC is a culturally responsive project that facilitates in-depth knowledge about climate change and its effects by integrating local and Alaska Native observations and knowledge regarding climate and the environment with western science.  ReAC will bring together educators, local leaders, planners, and community members during three annual Climate Change Education and Culture Camps.
Polar Voices
Project Lead: Maribeth Murray
Polar Voices is a radio series that explores climate change at the poles through the voices of the people who study, live and work there. The programs will bring polar environments to life for listeners, covering such topics as the collaborations between scientists and northern residents to better understand the impacts of and responses to climate change in the Arctic, the indigenous climate knowledge of Arctic peoples, and the climate science conducted in Antarctica.
The Greenify Network
Project Lead: Joey J. Lee
Greenify is a mobile social network that uses the power of community-based interaction, crowd-sourcing, and game mechanics to foster sustainability and learning through real world action, allowing people to meaningfully address climate change in their day-to-day lives.  

CONTACT
For inquiries about PoLAR, you may contact Jessica Brunacini.
—
This material is based upon work supported by the National Science Foundation under Grant Number DUE-1239783. Any opinions, findings, and conclusions or recommendations expressed in this material are those of the author(s) and do not necessarily reflect the views of the National Science Foundation.